INSTALLED – SatFi RV High Gain Satellite TV Dome
Fully Automatic High Performance Dome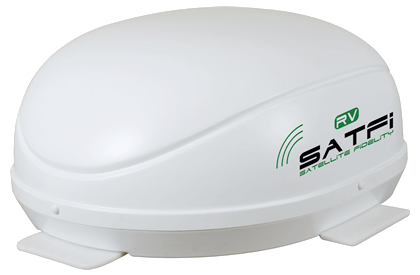 The SatFi RV is our very popular mid-range satellite dome. With its large high gain parabolic dish giving you extended reception range, the SatFi RV is the ideal choice for anyone traveling outside of the UK through France into Spain and still want the flexibility to watch their favorite satellite TV programmes while touring western Europe. The SatFi RV also comes with a Quadsat satellite library that includes the most popular European satellites (Astra 2 28E, Astra 1 19E, Hotbird 13E and Eutelsat 5W) so you'll always be able to access a vast choice of additional FTA (Free to Air) satellite TV channels throughout Europe.
The SatFi RV comes as standard with a twin LNB for use with either a single PVR recording receiver (Sky+) alternatively you can have two separate independent satellite receivers for two separate TV's.
The SatFi RV has a full-size dome but remains sleek in appearance. We also know weight is important so the SatFi RV is built to be as lightweight as possible. Weighing just 13kg and with a height of only 36cm, no other comparable satellite dome can match the RV for performance and features.
Features:
Compact, aesthetically modern design dome hiding high-gain, high-performance digital satellite dish
Future proof and easily updatable
Hideaway controller with remote magic eye
Simple to use combined control unit and digital free-to-air satellite receiver
Twin LNB for PVR or multi-TV applications
Specifically designed for caravan and motorhome use with full CA Clase support network
2-year RTB warranty. Additional 3rd year subject to terms and conditions
Model
Coverage
Features
Dimension/
Weight
UK
EU
EU+
Sats
Auto-skew
Twin LNB
Ease of Use
SatFi RV Twin
✓✓✓
✓✓
✓
4
No
Yes
✓✓
H 36cm
D  83cm
W 12.3kg
✓✓✓ = Excellent, ✓✓ = Good, ✓ = Some