INSTALLED – In-Motion Dome European Coverage
High Performance In-Motion Dome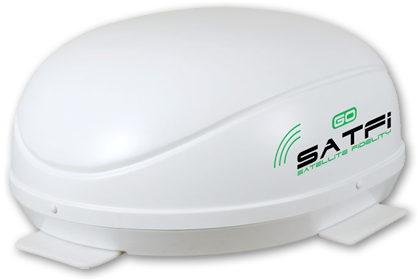 The SatFi GO offers high-performance in-motion satellite tracking and sets the benchmark for satellite dome technology. The first full-size 36cm dome to use a high gain Cassegrain reflector and coupled with GPS aided LNB autoskew the SatFi GO ensures the best possible satellite TV reception. Using the very latest in DVB-S2 satellite tracking the SatFi GO is at the forefront of satellite dome technology and is easily updateable via USB.
The SatFi GO also comes with our unique wake on demand feature and automatic DiSEqC satellite switching making multi-satellite viewing totally hassle-free.
All our SatFi satellite domes come with a standard two-year warranty with an additional third year if supplied and installed by one of our trained and authorized installers.
Features:
On the move satellite tracking for digital TV or  radio while you are driving throughout the Uk and Europe
Compact, aesthetically modern design dome hiding high-gain, high-performance digital satellite dish
Simple to use controller with automatic DiSEqC antenna satellite switching
TriSat satellite library (Astra 2 28E, Astra 1 19E & Hotbird 13E)
Suitable for Motorhome / RV / Coach / Horsebox / Inland Waterway use
Twin LNB with GPS aided auto skew for optimum European reception
Specifically designed for motorhome use with full CA Clase support network
2-year RTB warranty. Additional 3rd year subject to terms and conditions
Compatible with the latest generation of Avtex TV's
Model
Coverage
Features
Dimension/
Weight
UK
EU
EU+
Sats
Auto-skew
Twin LNB
Ease of Use
SatFi GO
✓✓✓
✓✓✓
✓✓
6
Yes
Yes
✓✓✓
H 36cm
D  83cm
W 12.8kg
✓✓✓ = Excellent, ✓✓ = Good, ✓ = Some